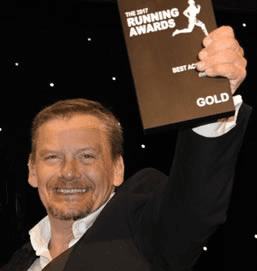 I invented the EventClip whilst running through a forest on my birthday Jan 11th 2009 looking down at my running gear, there were holes in my trainers, socks lycra shorts and top, thinking it was about time I treated my self to some new kit – I realised the holes in my top were caused by safety pins from competitions This is when the idea was born.
After years of development, prototypes, testing, more development and being down to my last £400 the design was realised as it is today and launched.
Now the most successful and best selling bib number fastener in the world and Winner of the Running Awards for Best Accessory for the 3rd year running as voted by the public world wide. 2015, 2016 & 2017.
2017
2016
2015
Winner Best British Running Accessory
EventClip by Public Vote
Snap-Lock Bib Number Fastener
2013
Apr
Mud Runner to Oblivion
13th out of 2,000
Fastest 45-50 year old in Britain
2011
Aug
Dirty Double Off Road Duathlon
2011
Jul
Dragons' Den - Series 11
Event Clip
Snap-Lock Bib Number Fastener
2010
Mar
Mud Runner to Oblivion
2009
Jan
Invented and Designed New Form of Fastener
EventClip
Now the World's best selling Snap-Lock Bib Number Fastener
2008
Apr
New Housing System for 3rd World Housing and Disaster Relief
Winner
EPRO European Best Recycled Product
2008
Jan
Tough Guy - Original and Toughest Obstacle Course
2007
Nov
Whinlatter Off Road Duathlon
2007
Mar
Dragons' Den - Series 8
New Housing System for 3rd World Housing and Disaster Relief
2005
Aug
New Housing System for 3rd World Housing and Disaster Relief
Finalist
New Housing System for 3rd World Housing and Disaster Relief
2004
Jul
Fastest Record Person to Walk On Water
Winner
Good Year HydraGrip Competition - Winner
Invented and built a method of walking across the river Thames
2004
Jun
Shropshire Business Idea Awards
Winner
New Housing System for 3rd World Housing and Disaster Relief
2004
Feb
Lord Stafford Awards For Innovation & Achievement
Commended
Reading Aid for Elderly and Arthritic - Gimble Book Holder
2003
Jan
Invented Formablock
New Housing System for 3rd World Housing and Disaster Relief
2002
Nov
Polaris Mountain Bike World Championship
2001
Jan
Invented and Designed - Gimble Book Holder